Advertising experts have described fleet advertising as
"the most powerful branding medium on earth"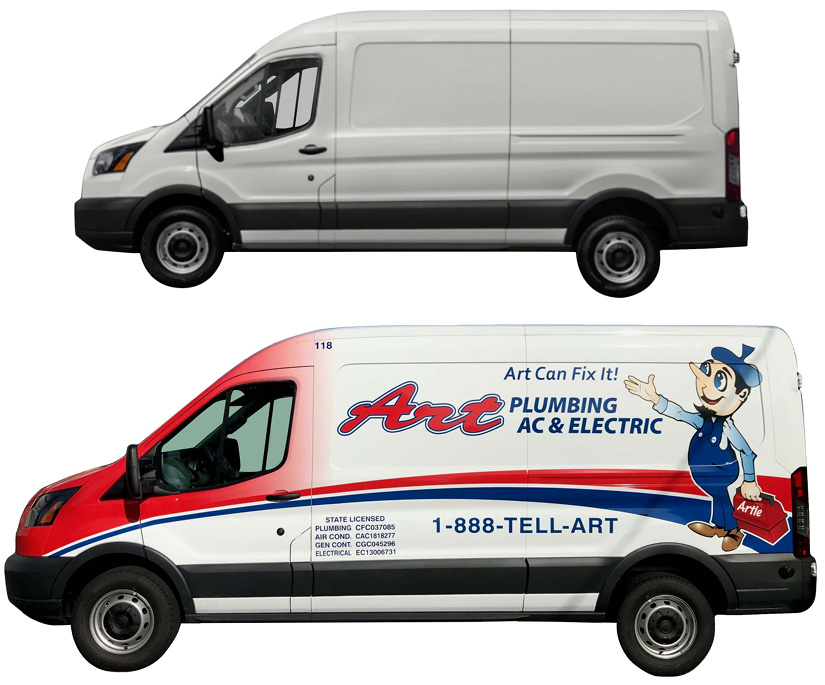 We are the Pro's...
We have been producing and installing vehicle graphics and wraps since early 90s' when digital signmaking technology was in it's earliest stages. With over twenty five years experience you can feel confident that we will get your job done right whether you have one vehicle or need to brand a full fleet. It all starts with a conversation. Call or email us and you can be on the road to realizing the potential of this exciting, powerful medium.
We do not cut corners. We believe strongly in using only the finest, most durable 3M materials and experienced, professional installation. We will guide you through the process from concept to creation. Whether a full wrap, basic lettering or something in between we are the experts and are ready to work within your budget.
Looks better. Lasts longer. Removes cleanly when the times comes.

Vehicle Graphics Are One Of The Most
Cost Effective Ways To Advertise Your Business!
A Fraction of the Cost of other Advertising
| METHOD | SIZE | COST | TERM | MONTHLY COST |
| --- | --- | --- | --- | --- |
| Internet | N/A | $1-2 per click | 1 month | $4500 |
| Radio | 60sec | $40 per spot | 1 month | $2400 |
| Newspaper | Full Page | $2500 | 1 day | Obsolete! |
| Yellowpages | 1/2 Page | $3000 | 1 month | Obsolete! |
| Billboard | Very Big | $3000 | 1 month | $3000 |
| Full Wrap | Very Big | $2500 | 3 years | $69 |
Hundreds, even thousands of people see your vehicle every day. Whether you're on the road or simply park it in a lot for the weekend a wrapped vehicle becomes your very own billboard working 24/7. And it never takes a day off.
Based on a standard size van with a typical price of $2500. Divide that by 36 months and it works out to $69 per month. Costs can vary per vehicle but you get the idea. And don't forget this is an advertising expense so it's tax deductible.
Where can you advertise effectively for $69 a month?